Scott Healy with the Eastman Chamber Jazz Orchestra
Live at Kilbourn Hall
"…terrific large ensemble wor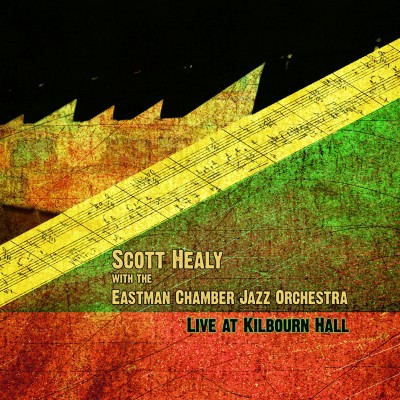 k led by composer and pianist Scott Healy. A mix of originals and covers ("Anthropology," "Solitude," "In Your Own Sweet Way"), with the transitions between the two groups sounding fluid and cohesive. Some nice soloing by members of the Eastman Chamber Jazz Orchestra, but it's the best moments are those of group interplay when the energy of a song seems close to ripping its form apart just to have it all coalesce back into its original shape. -Dave Sumner, WonderingSound.com
A pristine, intense live recording of new music, previously unrecorded works, and two numbers from Scott's Grammy-nominated 2012 release Hudson City Suite  – it's an "instant" record – one take, no fixes – just mix, master,  release..maybe repeat…

CLICK HERE FOR MORE INFORMATION, DOWNLOAD AND PURCHASE LINKS…
---
February 2015
Feb

4

Wed

Scott Healy Ensemble – Special LA Grammy Week Show @ Typhoon Jazz Club

Feb 4 @ 8:00 pm

Grammy Week Show by the Scott Healy Ensemble at Typhoon in Santa Monica on Wed, Feb. 4th 2015. Two shows: 8:00 and 9:30 PM

 CLICK TO VIEW THE EVENT ON FACEBOOK

The Scott Healy Ensemble returns to Typhoon on Wednesday, February 4th for a special Grammy week appearance, two sets, 8pm and 9:30. Join us for some high-power and eclectic large jazz ensemble music, including music from the Grammy-nominated "Hudson City Suite", "Live at Kilbourn Hall" and some new pieces. I have a killer band for this evening, featuring….

…SPECIAL GUESTS:

John Chiodini on guitar, and
vocalist Ruby Friedman will be returning to the band to blow the walls (or windows) out of the joint…

Here's the lineup:

Reeds: Jeff Driskill Alex Budman Tim McKay
Trumpets: Bill Churchville Brian Swartz
Trombones Andrew Lippman George Thatcher

Bass: Edwin Livingston
Drums: Bernie Dresel
Piano Scott Healy

Reservations for tables highly recommended. The Pan-Asian food is exotic and great.

Super-low cover, only $10. Free parking for your Lear Jet, use runway two.
The Scott Healy Ensemble's "Hudson City Suite"
2014 Grammy® Nomination for Best Instrumental Composition
"Koko on the Boulevard"
Following a year of rave reviews and national jazz radio airplay, Los Angeles composer, performer, and Conan O'Brien keyboardist Scott Healy scored a 2014 Grammy nomination for his ten-piece jazz ensemble tour de force Hudson City Suite.
"
Scott Healy's Hudson City Suite unites past and present musically as well as conceptually, bridging traditional big-band swing with lithe jazz modernism
.
-Downbeat Magazine
CLICK HERE FOR MORE INFORMATION, DOWNLOAD AND PURCHASE LINKS…
---
---
Click for original article on keyboardmag.com Getting the Most out of the your Fender Rhodes The Rhodes is an instrument with a practically unparalleled dynamic range, versatility, richness and... Read more
---
---
---
---
---
---
Read more news
---