"When I heard the rough mixes of the concert I was really excited – but, we had no intention of making a record! I had wanted to merely get through the concert unscathed. Yet there was so much music packed into this evening, and the ensemble played everything so well. I could hear and feel all their attention to the detail and shape of my music. Add in flawless performances, burning solos, and an unmistakable exuberance and creative vibe…I could hear the richness of the hall and feel the energy of the audience. I knew I had a record's worth of great material on my hands, one in which both my brand new music and un-recorded older pieces are fully realized and complete. Plus the recording quality is stellar. Fire up the CD presses!- Scott Healy
Pre-release of "Live at Kilbourn Hall" featuring Scott Healy with the Eastman Chamber Jazz Orchestra – Bandcamp.com and Amazon.com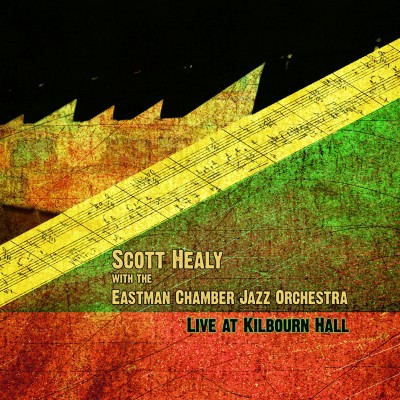 Recorded on March 20th, 2014, at Eastman School of Music, and featuring a handpicked student chamber jazz ensemble, Live at Kilbourn Hall contains some brand new and previously unrecorded compositions and arrangements, performed live, in one take, onstage in a world-class recital hall.
Preorder on Amazon.com to ship on September 20th.
Digital and CD Preorder and Streaming on Bandcamp.com, to ship and download on September 20th.
iTunes coming soon…
Please join the mailing list for more info and updates…or visit Hudson City Records.
---
The Scott Healy Ensemble's "Hudson City Suite"
2014 Grammy® Nomination for Best Instrumental Composition
"Koko on the Boulevard"
---
Following a year of rave reviews and national jazz radio airplay, Los Angeles composer, performer, and Conan O'Brien keyboardist Scott Healy scored a 2014 Grammy nomination for his ten-piece jazz ensemble tour de force Hudson City Suite.
---
"Scott Healy's Hudson City Suite unites past and present musically as well as conceptually, bridging traditional big-band swing with lithe jazz modernism. -Downbeat Magazine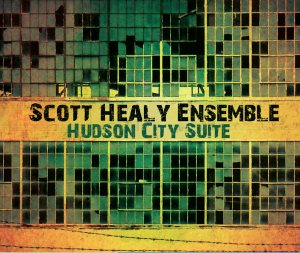 "Healy reveals himself to be a composer of serious sonic merit. -Jon Regen, Keyboard Magazine

"Profoundly beautiful…like Hindemith meets Kenton and Ives at Mingus' house for lunch…a soundtrack for the movies in his mind. -Bill Milkowski

"Healy has conjured up a captivating, amazingly varied and colorful range of sounds and moods with just a tentet here, showing that less can be more in jazz ensembles. -George Kanzler, NYC Jazz Record

"There's nothing more you can say about this session other than it's a four star showcase of killer playing unfurling a load of beautiful music. -Midwest Record Review

"…a thrilling panorama of sounds and moods… -Jazz Weekly
---
Click to preview, download, purchase, read the reviews, liner notes and full credits.
---
---
Live at Kilbourn Hall featuring Scott Healy with the Eastman Chamber Jazz Orchestra is scheduled for a mid-September release. Recorded on March 20th, 2014, at Eastman School of Music, and featuring a... Read more
---
---
---
---
---
---
Read more news
---