The Scott Healy Ensemble's "Hudson City Suite"
2014 Grammy® Nomination for Best Instrumental Composition
"Koko on the Boulevard"
---
Following a year of rave reviews and national jazz radio airplay, Los Angeles composer, performer, and Conan O'Brien keyboardist Scott Healy scored a 2014 Grammy nomination for his ten-piece jazz ensemble tour de force Hudson City Suite.
---
"Scott Healy's Hudson City Suite unites past and present musically as well as conceptually, bridging traditional big-band swing with lithe jazz modernism. -Downbeat Magazine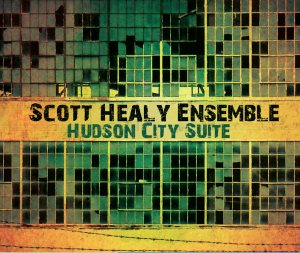 "Healy reveals himself to be a composer of serious sonic merit. -Jon Regen, Keyboard Magazine

"Profoundly beautiful…like Hindemith meets Kenton and Ives at Mingus' house for lunch…a soundtrack for the movies in his mind. -Bill Milkowski

"Healy has conjured up a captivating, amazingly varied and colorful range of sounds and moods with just a tentet here, showing that less can be more in jazz ensembles. -George Kanzler, NYC Jazz Record

"There's nothing more you can say about this session other than it's a four star showcase of killer playing unfurling a load of beautiful music. -Midwest Record Review

"…a thrilling panorama of sounds and moods… -Jazz Weekly
---
Click to preview, download, purchase, read the reviews, liner notes and full credits.
---
August 2014
Aug

3

Sun

Scott Healy Quintet @ Memorial Park, Pasadena, CA

Aug 3 @ 7:00 pm – 9:00 pm
I'll be bringing a quintet to this outdoor concert in Pasadena, CA on August 3rd at 7 PM.

I will be doing an organ trio plus two horns…we'll funk, groove and swing SoCal.

Here's the band:

Bill Churchville – trumpet

Tom Luer – temor

John Chiodini – guitar

Bill Wysaske – drums

Scott Healy – B3

Click Here for link to Event on levittpavillionpassadena.org

Aug

17

Sun

Mike Price Jazz Orchestra @ Typhoon

Aug 17 @ 6:00 pm – 8:30 pm
I'm excited about playing piano with Mike and his ensemble, especially since we're performing some of the greatest music of the 20th century, selections from the Ellington/Strayhorn suites.

Two sets, one at 6pm and one at 7:30.

Typhoon is one of my favorite places to play – it actually has great acoustics, and pretty amazing asian (fusion?) cuisine.

BTW if you know the Suites, you know the piano parts are sparse but profound.
Download and Purchase:
---
Posted in MusicWorld on April 25, 2014 by Ted Drozdowski Click for original article at bmi.com Photo: Lisa Tanner Scott Healy has enjoyed a great career just outside of the limelight. The... Read more
---
---
---
---
---
---
Read more news
---