The Scott Healy Ensemble's "Hudson City Suite"
"…Healy reveals himself to be a composer of serious sonic merit.
- Jon Regen, Keyboard Magazine

Rave reviews and national jazz radio airplay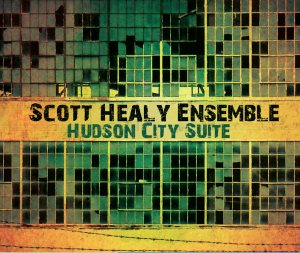 "Scott Healy's Hudson City Suite unites past and present musically as well as conceptually, bridging traditional big-band swing with lithe jazz modernism. -Downbeat Magazine.

"Profoundly beautiful…like Hindemith meets Kenton and Ives at Mingus' house for lunch…a soundtrack for the movies in his mind. -Bill Milkowski

"Healy has conjured up a captivating, amazingly varied and colorful range of sounds and moods with just a tentet here, showing that less can be more in jazz ensembles. -George Kanzler, NYC Jazz Record

"There's nothing more you can say about this session other than it's a four star showcase of killer playing unfurling a load of beautiful music. -Midwest Record Review

"…a thrilling panorama of sounds and moods… -Jazz Weekly
Click to preview, download, purchase, read the reviews, liner notes and full credits.
---
Hudson City Suite  by the 11-piece Scott Healy Ensemble has received nothing but praise from the critics. Scott and the recording were the subject of an "Indie Life" profile piece by Shawn Brady in the March, 2013 issue of Downbeat Magazine. Footage of the session and interviews with Scott and his band are the subject of a short film by NYC director Gabriel Judet-Weinshel (below).
Featuring Tim Hagans on trumpet, Scott on piano, and an all-star group of LA's finest, this fifty-six minute work was recorded April 30th and May 1st, 2012, at The Bridge in Glendale, CA. Nine tracks are thematically linked, the music is spacious, rich, distinctly modernist yet reverent to the tradition.
Hudson City Suite by the Scott Healy Ensemble is a conceptual and grooving large ensemble jazz tour de force.
---
---

A Nice Rig on a Dream Gig Last June, a weekend recording session of Mark Mothersbaugh's music for the recently released film "Last Vegas" yielded over 30 cues–just about the entire... Read more
---
---
---
---
---
---
Read more news
---